Sponsors from the past
The CB Klunker Collection is very thankful for the continued support of Mountain Bike history provided by Kona!
MBHOF Hours
| | |
| --- | --- |
| Winter: | 12:00PM - 6:00PM |
| Summer: | 10:00AM - 8:00PM |
* Closed Apr, May, Oct and Nov
Museum admission: $4.00
For more Museum info, call the Crested Butte Mountain Heritage Museum at (970) 349-1880. For Crested Butte Klunkers Call Kay and Don 970.349.6482
We are now the Crested Butte Klunker Collection
2018 Pearl Pass Tour to Aspen September 8/9!
Plan to COME ! Oldest MTB Event in the World !

Go to the Pearl Pass Tour Facebook Page

The 42nd Annual Pearl Pass Tour to Aspen will be on the weekend of September 8 and 9-2018. If you would like to join the 42nd Annual Tour please plan to be in Crested Butte that weekend!

We meet at the CB Mountain Heritage Museum at 8:30 am and the tours leave at 9:00 am sharp. If its the 2-day Klunker Tour you want plan to ride on Saturday September 8th, camp-out and ride to Aspen on Sunday the 9th. If you want to ride it in one-day, Sunday the 9th we ride all the way to Aspen!

Klunkers are the desired method of travel for the 2-day ride. There will be a self-supported Camp-out on Saturday Night. The ride to Aspen over 12,705 ft Pearl Pass is on Sunday for both groups. We will shuttle folks home to Crested Butte Monday morning after celebrating and staying in Aspen Sunday night. It is a 38 mile ride. Needless to say, make sure you are in top shape if you plan to ride this tour.

Some folks arrange to have friends or loved ones pick them up in Aspen. There is room for 12 ppl and bikes in the return van. Cost is $20.00 for the shuttle home to Crested Butte and $10.00 for gear to Aspen from Crested Butte. Weather permitting; this tour will be cancelled if there is too much snow or rain!

Book your Sunday Aspen hotel rooms early and cancel them if you cannot go.

Email us at cbklunkers@yahoo.com or call 970.349.6482 for info



2014 Pearl Pass Tour - A Great Time
Pearl Pass Summit 1983
PPKT 8, 1983. The crew? Motley, to be sure! The bunch to the left are the 8 of us-3 Matts, 2 Joes, a Josh, a Fred, and an Eric-who packed Spike Riboli's '69 Chevy wagon, Hebdog's '71 Super Beetle, and Muireye and ShredReady's '64 21 window bus (later to be mine in '91), and spent a week getting to, pu
shing up, and riding back out of Cedar Grove up into Rae Lakes Basin and a patch of JMT/PCT at the crest of the Sierra, before heading to the Butte and Fat Tire Bike Week. Left to right, zigzagging through us all: Matthew T Murray, GP Joey Petersen, Joe 'Spike' Riboli,Joshua Josephson, EricBeneken, ShredReadyFreddy Falk, MattHebberd, yours truly Hansquini, Charlie Cunningham, and The Witz Marc Horwitz. My Trailmaster was a mere few months old at this point, if even that, but already well versed in bikepile! An epic 2+ week roadtrip that we celebrated a 20th reunion of with a week in Oregon.
The Crested Butte Klunker Collection is now Open in Crested Butte!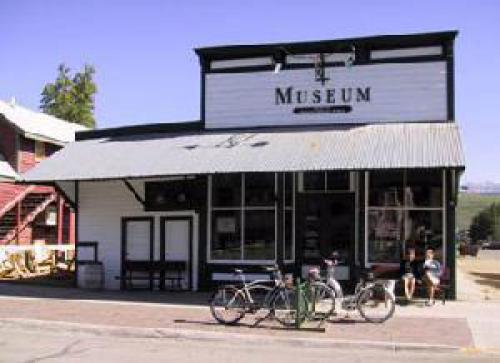 Come and see our new Exhibit which features the Historic Pearl Pass Tour to Aspen, Fat Tire Bike Week (now called Crested Butte Bike Week), CBMBA history. The exhibit features Klunkers, Hi Tech Vintage Bikes and townies!! For questions or information contact the Museum at 349-1880.
The Crested Butte Klunker Collection located in downtown Crested Butte at 331 Elk Avenue within the Crested Butte Mountain Heritage Museum. We are currently installing our new display. Our biking collection houses items of memorabilia, including vintage bikes, components, classic photos, press clippings and highlights from historic races and events. Soon the Mountain Bike Hall of Fame will open in its new location in Fairfax California. Here is their Website!
Marin Museum of Bicycling
To Join the Mountain Bike Hall Of Fame in Marin Click
HERE!
Read the Crested Butte News
Story
about the move. The Marin Indepedent Journal Published this
Story!
This is now The Crested Butte Klunker Collection website. We offer cyber travelers a way to educate themselves on mountain bike history without a trip to the Fairfax or Crested Butte museums. Check out the ARCHIVES section for magazines, vintage catalogues and photos. We have listed other websites on our Great Web Links page that have lots of historic information and photos. Check them out!!!
Hours
The Crested Butte Museum is open Daily during high season. There is a small Admission price.

It is closed during the off-season which are parts of April, May, October and November.

For more info call the Crested Butte Mountain Heritage Museum at 970-349-1880.
Wende Cragg Photo Gallery
Go to this
PHOTO GALLERY
page to see an awesome collection of Wende Cragg pictures fom the late 1970's through the early 1980's. These photos are from Marin County, Crested Butte and the Sierra Nevada. There are great pics of Repack and The Pearl Pass Tour. You may recognize some of the Mountain Bike Hall of Fame Inductees such as Gary Fisher, Joe Breeze, Charlie Kelly and many more!
The Captions are now updated.
These photo are copyrighted. Please do not reproduce them without Wende's permission.
Contact us if you want to get a hold of Ms. Cragg.
New Fairfax Location
The Mountain Bike Hall of Fame is now located at 1966 Sir Francis Drake Blvd., Fairfax, California
Buffalo Soldiers Web Link
In 1897, 20 soldiers, an army surgeon and a reporter led by Lt. James A. Moss, rode bicycles from Fort Missoula in Montana to St. Louis, Missouri. The trip was made as an experiment to see whether the bicycle could serve a useful purpose in the Army. 1890s America was also experiencing a bicycle-craze due to the recent invention of the "safety bicycle" (a bicycle with wheels of equal size and chain driven). Accounts make it clear that Moss had a romantic streak, and enjoyed the outdoors, as well as what he referred to as "the poetry of cycling".